Transcribo directamente del Post de Gustavo, aparte de Felicitarlo por el logro, escribir un libro no es tarea facil, y mas cuando un buen amigo se embarca en esa tarea, tenemos que apoyarlo….
Felicitaciones Gustavo!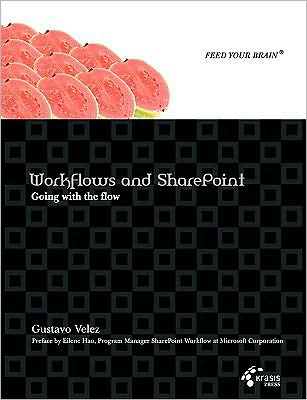 Hace un par de días ha sido publicado mi último libro sobre SharePoint: "Workflows and SharePoint: Going with the Flow". Como se podrán dar cuenta por el título, se trata sobre flujos de trabajo y ha sido escrito en ingles...
Si a alguien le interesa, lo pueden encontrar en Barnes & Noble (http://search.barnesandnoble.com/Workflows-And-Sharepoint/Gustavo-Velez/e/9788493669607/?itm=1) o en Amazon (http://www.amazon.com/Workflows-SharePoint-Going-Gustavo-Velez/dp/8493669601/ref=sr_1_22?ie=UTF8&s=books&qid=1241287093&sr=1-22).
El libro es principalmente dedicado a desarrolladores, y pretende dar una imagen completa sobre el desarrollo de Flujos de Trabajo para SharePoint 2007 desde lo más esencial (uso de los flujos por defecto), pasando por temas medianos (creación de flujos con SharePoint Designer) hasta temas avanzados (creación de flujos con Visual Studio usando formularios aspx e InfoPath).